Puyo Puyo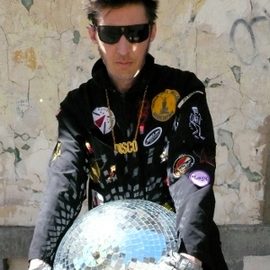 After being a new wave drummer in the 80s, Pascal Lebrain became Puyo Puyo around 2002.
It was the computer and the program Protools Free that allowed him to create a slightly devious and crazy lo-fi electropop music, home made with little material, but much enthusiasm.
First good news: Feliz Kubin took him on his label Gagarin Records for a maxi vinyl entitled "A novel Trick Item" in 2004.. He then started a series of concerts throughout Europe - and even in Mexico - dancing the Puyo Puyo in video clips he put together himself in the same ludic and low-budjet spirit as always. This mutant karaoke, both fragile and energetic, became is trademark, along with his famous cosmodroid helmet.
From compilations to maxis, he went on producing his music, but still asked his electronic idols to remix one of his pieces. This is how Felix Kubin, Candie Hank, Brezel Goering (Stereototal), Frederik Schikowski, Groupgris (Kap Bambino) and Gangpol got started on the project: the album came out in 2009 as a picture disc under Brain Records, a label created for the occasion. The Brain is also a radio show hosted and produced by Lebrain and his partner Eva Lebrain since 1999, with whom he also organizes evening concerts and parties in Nantes called "Superboums".